Limited Supply of Pfizer Bivalent Infant/Toddler Vaccine
Supply of the Pfizer Bivalent Infant/Toddler (ages 6 months - 4 years) vaccine is limited until January 19, 2023. Providers can still submit small orders for local fulfillment or through the Third-Party Redistributor (TPR). Alternatively, providers can utilize the Vaccine Marketplace.
Reminder: Report Doses Administered
Please remember to report all COVID-19 doses administered within 24 hours to your medical record system and to CAIR as soon as practicable and no later than 72 hours. Review the Reporting Doses Administered Startup Guide in the Provider Operations Manual for details. Accurate reporting helps CDPH track health equity measures and informs vaccine allocation planning. To prevent allocation delays, please ensure you are promptly and accurately reporting doses administered to CAIR.
My Turn and myCAvax System Outage
To complete deployment of the Unified Login Experience, both My Turn and myCAvax will be unavailable starting today, January 13 at 6:00PM PT through Monday, January 16 at 8:00AM PT.
Holiday Vaccine Ordering and Help Desk Availability
Vaccine Ordering
In observance of the Martin Luther King Jr. holiday, there will be no vaccine deliveries on Monday, January 16, 2023. The order submission deadline for next week is 5PM on Monday, January 16. Please submit orders by today, Friday, January 13, if your office will be closed on Monday. For further information, view the January Holiday Ordering & Delivery Cadence.
Help Desk Availability

The COVID-19 Provider Call Center will be closed on Monday, January 16.
If you have questions or need support on that day, please reach out to the My Turn (MyTurn.Clinic.HD@cdph.ca.gov) and myCAvax (myCAvax.HD@cdph.ca.gov) Help Desks.
Vaccination Guidance for Age Transitions from 4 Years to 5 Years
In general, children should receive the age-appropriate formulation and follow the vaccine timing schedule (calendario de la vacuna) based on their age on the day of vaccination, regardless of their size or weight. If a child moves from a younger age group to an older age group during the primary series or between the primary series and receipt of the booster dose(s), they should receive the vaccine dosage for the older age group for all subsequent doses.

The only exception to this guidance applies to children transitioning from 4 years to 5 years who received the Pfizer primary series. For the Pfizer vaccine, FDA Emergency Use Authorization (EUA) requires children who turn from age 4 years to 5 years during the primary series to complete the series they start, either:
The 3-dose primary series recommended for children ages 6 months – 4 years or

The 2-dose primary series recommended for children ages 5 years – 11 years.
The follow are acceptable age transition scenarios: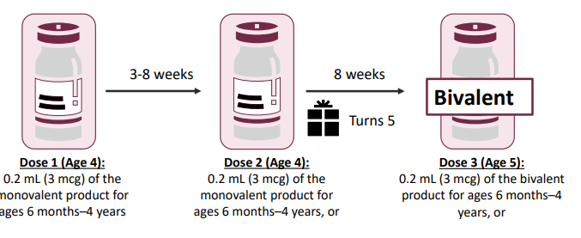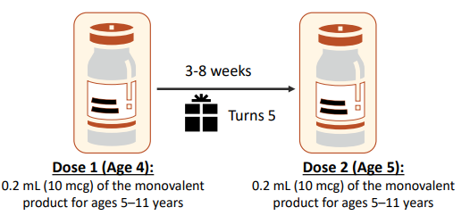 COVID-19 Vaccine Upcoming Expiration Dates
Janssen (J&J) Vaccine
The last of the Janssen (J&J) COVID-19 vaccine was set to expire in February, 2023. However, CDC recently announced that a small amount of the Janssen (J&J) vaccine will remain in stock until May, 2023.
Novavax Vaccine
The Novavax vaccine will expire at the end of February, 2023. McKesson will stop shipping the Novavax vaccine at the end of January, 2023.

Moderna Monovalent Vaccine

The Moderna Monovalent vaccine will begin to expire in February and March, 2023.
Pfizer Monovalent (Ages 12+) Vaccine

Only the Pfizer Monovalent (ages 12+) Comirnaty vaccine will be available after January, 2023.

Please use the following tools to check expiration dates: